Most orders placed before 3pm will arrive the next day by courier (Mainland UK only). Orders placed before 3pm on Friday will be sent the same day but will not arrive until Monday (Mainland UK). Our couriers do not deliver on a Saturday.
Most deliveries will be sent by registered courier. We have spent a great deal of time trying to make delivery prices as fair as possible. Unfortunately it is too complicated to associate weight with the delivery address.
Reduced postage for small items
If you are only ordering a small item we can send this by Royal Mail. You can then reduce your postage down with the postage reduction tool on checkout. For example if ordering a sprocket, this will cost us £3.60 to send. You could reduce the postage and packing to £3.95 with the reduction tool. Click the stamp below for full details.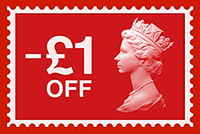 VAT & Delivery
20% VAT will be added to your order at checkout. For all UK mainland orders delivery is £8.95 + VAT.
UK delivery will be on a 24 hour courier service. All EU parcels will be on a 3-5 working day service.
Zone 4 Postcodes
For Zone 4 Postcodes the delivery cost is £9.45. This is because they are more expensive to deliver to and include The Scottish Highlands, Isle of Man, The Hebrides etc. To see the full list of Zone 4 Postcodes click here.
All shipments outside the EU (inc Norway and Switzerland) will be sent with VAT at 0%. We are able to ship to most countries in the world. The website calculates shipping costs when you reach checkout. To ship outside of these countries, delivery costs may vary.
Delivery rates per country
To view a pdf of Delivery rates per country click here.
Occasionally there may be a surcharge for shipping extra large items or items to remote locations. This will need to be paid for before we ship and we will contact you with how much extra this will be. You will still have the option to cancel your order at this stage.